Dual Spool, Side-by-Side Arc-Welding Cable Reels
The ReelRite Series incorporates top grade materials with the highest level of reel technology. It features anodized aircraft grade 6061 T6 aluminum reel disks and stands. The disks are anodized and the stands have a baked powder coated finish.
The ReelRite Series combines quality into a compact system that will store and deploy long lengths of cable or hose. It is designed to deliver a high return on the initial investment by improving productivity, providing many years of service and by increasing the working life of expensive cable and hose.
REELRITE: SERIES R 2432 – 300 AMP OR R 2462 600 AMP:
DUAL SPOOL, SIDE-BY- SIDE ARC-WELDING CABLE REELS: COMPLETE WITH STAND — PRICED WITHOUT CABLE
HIGH QUALITY U.S. CABLE CAN BE ADDED — DISCOUNT PRICING APPLIES
ARC WELDING CABLE REELS: SINGLE SPOOL
Height
Width
Depth
Weight
Cable Capacity ***
300
AMP
Price
600
AMP
Price
300 AMP
600 AMP
#1
1/0
2/0
3/0
R 2432-26
R 2462-26
14
29
12
42/45
125
100
75
50
1369
1469
R 2432-28
R 2462-28
14
31
12
44/47
150
150
100
70
R 2432-29
R 2462-29
14
34
12
46/49
150
175
125
75
R 2432-46
R 2462-46
16
29
14
44/47
150
150
125
100
1429
1529
R 2432-48
R 2462-48
16
31
14
46/49
200
150
150
125
R 2432-49
R 2462-49
16
34
14
48/51
225
175
175
150
R 2432-66
R 2462-66
18
29
16
46/49
225
200
175
150
1449
1549
R 2432-68
R 2462-68
18
31
16
48/51
250
200
R 2432-69
R 2462-69
18
34
16
50/53
275
250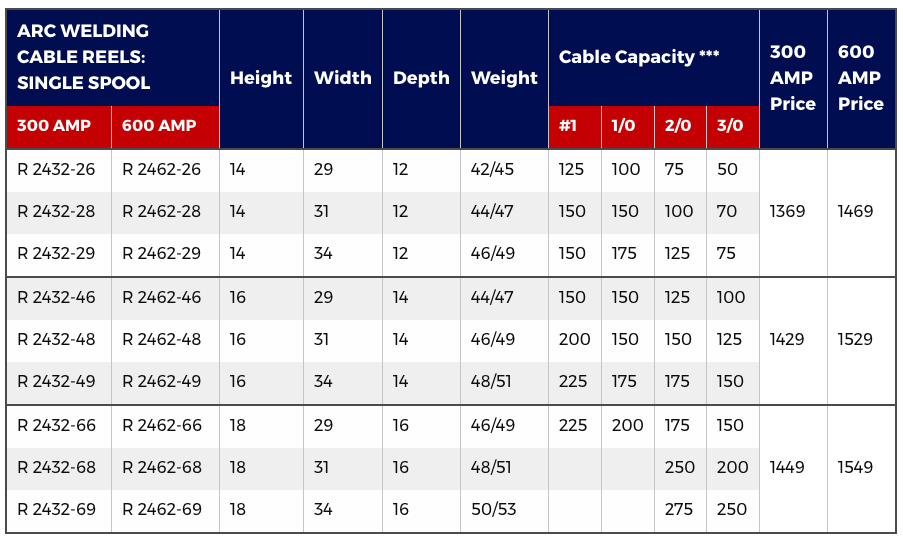 ** Determine operating amps for various lengths of Cable refer to the Chart